FULLY ESTABLISHED NETWORK
GROUPE MMI has an already well-established structure to serve all regions, near and far, in the province of Quebec. For more than 30 years, the MMI solution has proven itself.
MOBILE TEAMS
In city centers and distant regions, our professional teams are at your service. In addition, our mobile teams are available 24/7 for any emergency offering you continuous service.
ENVIRONMENTAL SUSTAINABILITY
It is in the choice of our products that we ensure the well-being of the environment and your health. We choose biodegradable products to help keep our planet clean.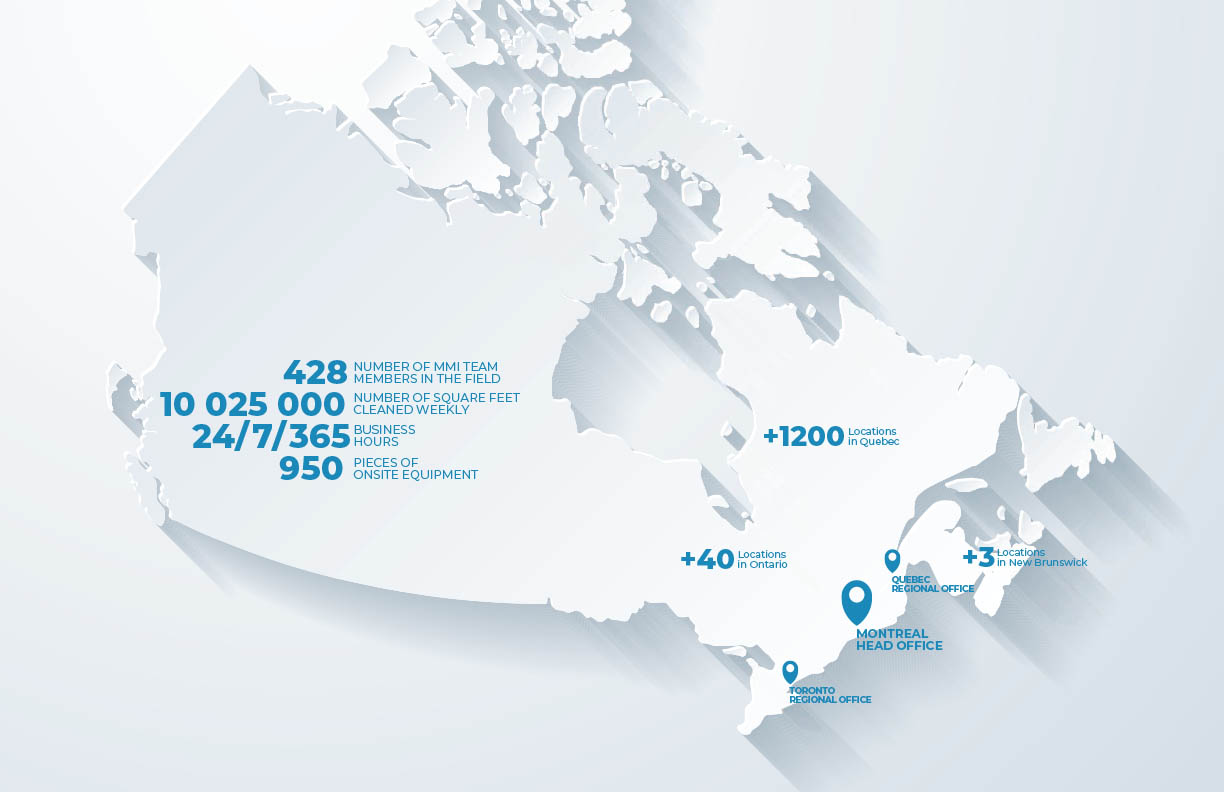 WHAT SETS US APART
For over 30 years, Group MMI has been offering a multitude of services related to commercial cleaning. We are privileged to serve over 1300 sites in Canada, some for over 25 years.
Group MMI is focused on continuing to improve its methods and techniques through tailored training programs, research and development. By staying abreast of market needs and trends, our team is able to anticipate potential problems. Our proactive approach allows us to offer a personalize program that is affordable and of high quality.
We consider all our customers as having a central place within our company. We aim for long-term business relationships. To achieve this, we prioritize human relationships and transparency. With a human's first culture, you are our priority at all times.
What sets us apart from our competitors is that we always seek to challenge the status quo. We don't just satisfy our customers' expectations. We want to surpass them!
What I appreciate at Group MMI is the quality of the work done but, above all, the availability of the management team. When I call, I can speak directly to someone and things happen immediately. I like their flexibility and the quality of their work is really superior to the
Tony Palamaro
Pharmaprix
GROUP MMI'S CULTURE
Since its foundation, GROUPE MMI has always aimed for excellence and has the satisfaction of all its customers very much at heart. GROUPE MMI has the privilege of serving a large clientele in a wide variety of fields. We consider that all our customers have a privileged place within our company.
GOAL
Our BHAG is to be the best reference in commercial cleaning by promoting a human's first culture. We work together to ensure peace of mind for all our customers through impeccable and professional quality service.
Core Competencies
To keep abreast of the most recent innovations and trends in our industry, we have a research and development team whose objective is to optimize:
Our techniques
Reduce our environmental footprint by encouraging the efficient use of natural resources: energy, water, raw materials and paper.
Our tools
Reserve the most important tasks for the human and reassign the more repetitive ones to the robotic devices.
Our products
Ensure that they promote sustainable development by increasing their efficiency while reducing their consumption. Your health is our priority.
Our partnerships
Collaborate with renowned suppliers for their technological advances in order to simplify communication, speed up execution and reduce costs.
Discover the MMI experience. You will not be disappointed.